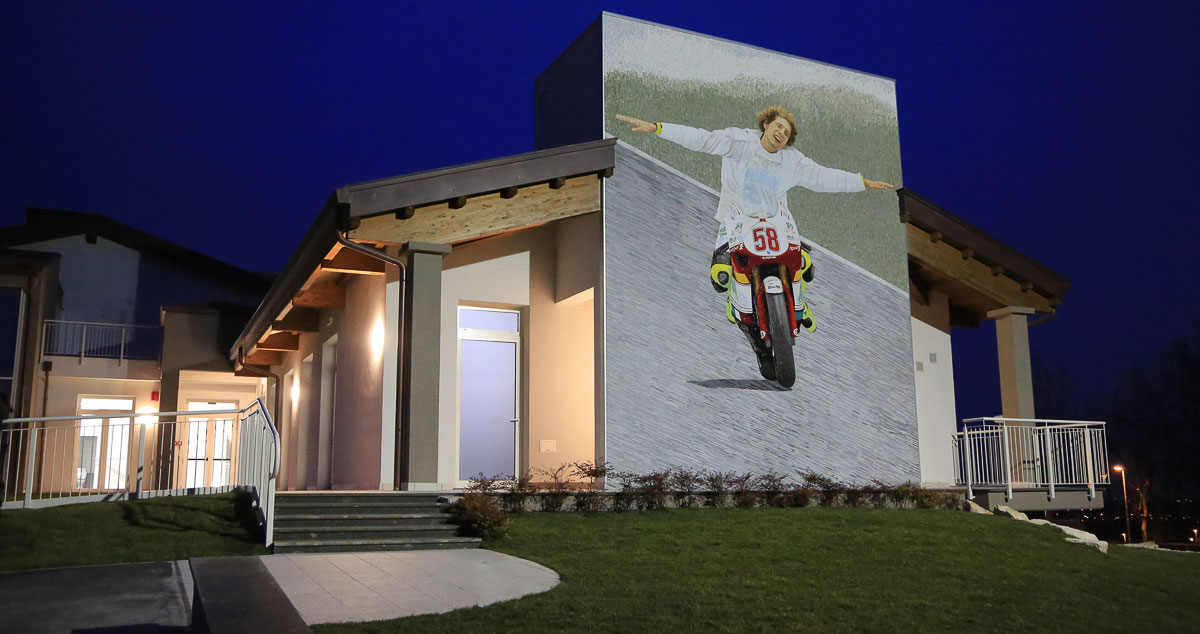 "Casa Marco Simoncelli" is a home for the disabled in Coriano (Rimini) inaugurated on January 20 2019, which would have been Marco Simoncelli's 32nd birthday if the unforgettable motorcycle racing champion had not died in Sepang in October 2011.

The Casa Marco Simoncelli project, funded by initiatives promoted by the Simoncelli Foundation and private citizens' donations, began five years ago on the former site of the "Casa per Vacanze Santa Marta" holiday residence, with interiors decorated using Iris Ceramica and FMG Fabbrica Marmi e Graniti high-tech aesthetic ceramics.

The project designed by Polistudio of Riccione incorporates both residential services and a day activity centre operated by the community of Monte Tauro in Coriano, with which Marco Simoncelli had a special bond.

This great work of solidarity and social commitment sees the involvement of highly qualified professionals who add to the range of services available in the area with rehabilitation, assistance and hospitality for family members. In architectural terms, the facility has an outdoor area measuring more than 10 thousand square metres, a vast park available to the community surrounding a 1,700 square metre building on three levels which includes a swimming pool for therapy, a gym and a multipurpose hall for exercise and recreational activities.

In this context, Iris Ceramica contributed porcelain from its Quarziti collection to the 2,500 square metres of covering materials, choosing the Dorada variety in the 60x60 size. Quarziti is a collection of top-quality ceramics for indoor and outdoor use, in warm, enveloping colours that capture the attention and add atmosphere and identity to spaces.

Their advanced technical performance makes FMG products perfect for use in all those premises where the project requires high resistance to stress. Both collections include, as their key elements, particularly bright surfaces, especially appropriate for underlining the qualities of a building with big windows and large open spaces.

Iris Ceramica and FMG materials guarantee top long-term technical and aesthetic performance. The choice of Iris Ceramica Group porcelain for hospitality facilities such as Casa Marco Simoncelli represents the best possible solution for floor and wall coverings, guaranteeing all the properties essential for places of residence and care. Strength, durability and easy cleaning and ordinary daily maintenance are the key features of porcelain, perfectly represented by the Iris Ceramica and FMG materials used in the building.